Setup requirements
Install VirtualBox
Install Vagrant
Verify all requirements
Open the terminal and try this command to verify Virtualbox is ready.
$ Virtualbox 

-h
Open the terminal and try this command to verify Vagrant is ready.
$ vagrant 

--version
Pull PHP 7 box source code
Clone this repository from Github :
$ 

git

 clone https://github.com/khanhicetea/phpbox
Provision the box
$ 

cd

 phpbox
$ vagrant up
Note : First provision will take a long time to build the box (about 30-45 minutes). But next time you run the box, it only takes 2 mins.
Development guideline
SSH to the box
Run this command in phpbox folder
$ vagrant 

ssh
Point your virtualhosts to Box IP
Your PHPBox IP address is 192.168.67.101, you can change in Vagrantfile
Open /etc/hosts file in your PC to map virtualhosts IP to PHPBox
$ sudo vi /etc/hosts

Each line in this file will have format (IP HOSTNAME). Eg:
192.168.67.101 test.dev
192.168.67.101 php7iscool.dev

Folder structure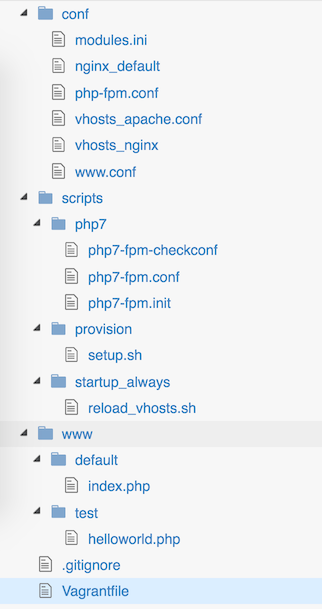 conf : Configuration

modules.ini : PHP module configuration
nginx_default : Nginx default host
php-fpm.conf : PHP7-FPM configuration
vhosts_apache.conf : Apache virtualhosts (if you use Apache)
vhosts_nginx : Nginx virtualhosts
www.conf : PHP7-FPM worker configuration

scripts : provision scripts
www : Web root

default : document root of default host 192.168.67.101
test : document root of test host test.dev

.gitignore : gitignore file
Vagrantfile : Vagrantfile of PHPBox
Create a new virtualhost
Duplicate a server section in vhosts_nginx or VirtualHost in vhosts_apache.conf
Edit the server name and document root
Pointing servername to PHPBox IP via hosts file
Restart web server sudo service nginx restart or sudo service apache2 restart
Utils
Composer, Git, Docker is ready
This box included helpful tools like composer, git, docker, redis-server, htop, vim, screen and zsh.
PHPMyAdmin or Adminer
Adminer (default) : http://192.168.67.101/adminer
PHPMyAdmin : http://192.168.67.101/phpmyadmin
Services
MySQL user : root / passwd
Redis : localhost:6379
Installation config
You can open the scripts/provision/setup.sh to modify some variables to modify some packages.
Ref