Just my 2 cents ...
Nowaday, it's easy to see a news about AI (artificial intelligence) on the media. Even we are using it everyday without cognition. SO WHAT IS IT ? IS IT GOOD or BAD ? AND CAN WE ... EAT IT ?
In this article I will try to answer that questions :
AI is just technology, so you can't eat it ;)
Technology is just a ... technology, a thing that human created. So it's good or bad ? Depends on what purpose and context we used it !
In some context, it will ruin your life. I will explain in this section.
AI has been eating the world
Get back to your life :
When did the last time you search thing on Google ? Have you notice that Google will show different results for different people within same keyword ? That's personality AI !
Remember when you was watching a Youtube video and saw the recommended videos in right sidebar ? It's recommendation AI !
And the time you posted a photo to Facebook then it's automated help you tag your friend to the photos ? This is recognition AI !!
And many many cases ...
We can not eat technology !
As I said, AI is just technology that human created from their stupidity. It helps us building this world up and sometimes burning it down.
AI can help in agriculture, industry, healthcare, services by automation with its learned knowledge. But automation is killing jobs, taking money from non-professional worker, taking food and learning condition away from their children, etc.. Unemployment is really really bad !
"Every war, every revolution, demands the sacrifice of a generation, of a collectivity, by those who undertake it." - Simone de Beauvoir
And human can pass any war, any revolution in history. So AI isn't really bad in this context ! So how has AI been ruining mankind slowly ?
By making us lazy on thinking and stupid on decision !
This is an example. Today (May 9 2018), Google announced its new feature for GMAIL users : SUBJECT: Write emails faster with Smart Compose in Gmail
This is what it provided : "Smart Compose, a new feature powered by artificial intelligence, to help you draft emails from scratch, faster."
And this is its demostration :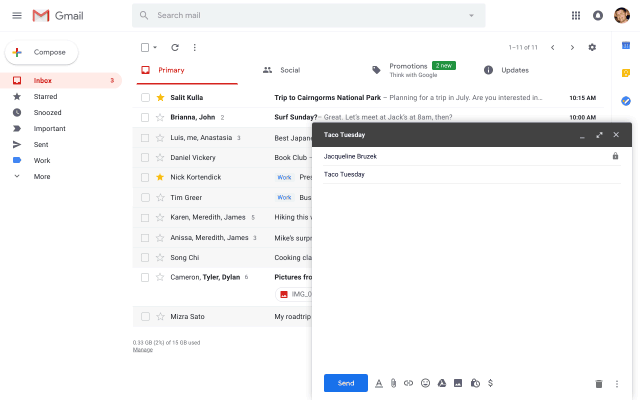 As we can see, the writer only have to press first word (or even first letter) then [TAB] (haha this looks like autocomplete in programming by an IDE, may be this idea came from a developer). Everything is done ! WOW, this is amazing feature, a killer feature, a revolution on writing email.
BUT ... BUT ...
It annoys you on thinking what to write next !
It destroys your emotion !
It's just a template, a stereotypy ! It kills your imagination and your creative !
It fixes us on wrong words, grammars, ideas ! But we has been improving ourself by making mistake everyday !
It makes us lazy on thinking and stupid on decision !
It has been ruining your life !
WHAT IF !? WHAT IF !? SOMEDAY, WHEN YOU TYPE THE FIRST KEY [F], IT WILL RECOMMEND THIS TEXT "FUCK HUMANITY !" 😂 LIKE THIS SIRI
DON'T LET TECHNOLOGY RUIN YOUR LIFE ! BUT USE IT TO MAKE LIFE BETTER !
---
Ref :
Smart Compose demonstration from Google
Cover photo from Google Image Search (thanks for this AI, haha)